FileWave Version 14.0.2 (Unsupported)
These downloads are provided for the purposes of migrations and should not continue to be used in production. You should upgrade to either the most recent release or the one prior. They can always be found here: Supported FileWave Versions
FileWave Management Suite
---
Your existing FileWave Server must be version 12.7.1 or higher before you can upgrade to FileWave 14.0.2.  Additionally, FileWave 14+ has a higher minimum memory requirement of 8GB.
Compatibility
Server
macOS 10.12 through 10.15
Linux CentOS 6.10 x86_64, and 7.8 x86_64
Booster
macOS 10.12 through 10.15
Windows 10, Server 2012 R2, Server 2016, Server 2019
Linux CentOS 6.10 x86_64 and 7.8 x86_64
Clients
macOS 10.12 through 10.15
Windows 10, Server 2012 R2, Server 2016, Server 2019
Windows 7 is officially End Of Life from Microsoft and is no longer officially supported by FileWave from version 13.3 onwards.
Admin
macOS 10.12 through 10.15
Windows 10
Mobile Clients
iOS 9.3, iOS 12 and iOS 13
iPadOS 13
tvOS 13
Android 7 and above (EMM Client)
Chromebook: ChromeOS 43+
iOS 14, iPadOS and tvOS 14 support is limited to Version 13.3.1 features.
Older Android versions using Native APK application are supported using Version 13.3.1.
Compatibility Chart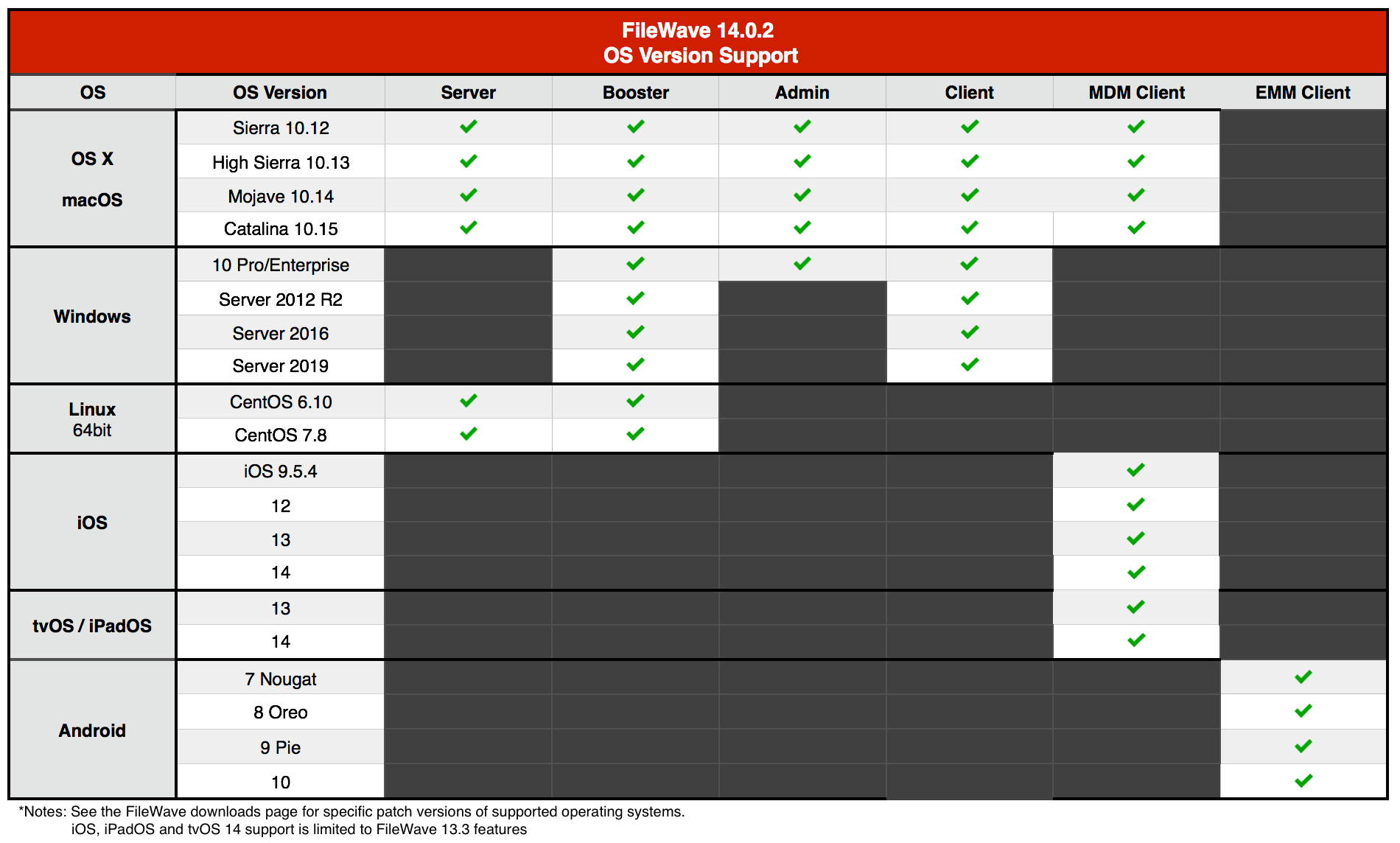 Legacy Version Compatibility Chart

New Features
New Web admin (Beta !)
Apple devices management:
Enhanced support for Shared iPads (iPadOS 13.4)
User Enrollment support for iOS / iPadOS devices:

New enrollment url to "User enroll" devices in a Bring Your Own Device scenario - see https://www.apple.com/business/it/ 
Automatically create and associate VPP users to User Enrolled devices to ease VPP apps and books deployment
Enrollment type is now shown in Client info

32b only applications are reported and not installed on incompatible iOS / iPadOS devices
macOS: use of InstallEnterpriseApplication command to install FileWave agent on compatible devices
Simplify VPP license management:

New Licensing option "Device when possible, user if not"
License reservation is not mandatory anymore - fileset can consume license from VPP token without reservation

Support for universal apps
Basic support for macOS "Big Sur"

Devices running macOS 11 properly report macOS version
Fixed an issue where updating profiles on non-MDM macOS 11 devices would remove the profile (see below)

iOS 14 / macOS 11: "Disable MAC address randomization" option in Network profile
macOS 11 "Big Sur" changes:
One of the changes announced by Apple during WWDC 2020 is that macOS 11 will drop support for command line installation of profiles and Software Update.
FileWave 14.0.2 contains important change to profile installation for non-MDM enrolled macOS (or profiles installed before MDM enrollment).
Desktop devices management:
New Fileset revision system:

Allows regrouping different versions of the same application inside the same fileset
More control over staging and application upgrade

Association conflict resolution is now more consistent:

The "Winning" association now follows clear and consistent rules for the distance (no difference between normal clones and smart group clones for instance)
All association attributes (kiosk, licensing, schedule) are now from the winning association

Smart groups can be used in Imaging Views to create Imaging Associations
Verify can now be triggered via command line on device
Native console:
Enhanced booster monitor to only accept valid settings
"Move to..." option for fileset
It is now possible to filter inventory query results
It is now possible to create a smart group from an inventory query
it is now possible to duplicate a smart group
Added more information to Inventory-based Smart Groups to clarify membership
Installers:
A backup of FileWave database and important settings will be taken before upgrade
Internals:
Important third party upgrade:

OpenSSL 1.1.1g
Apache 2.4.43

Postgres Log rotation now uses integrated postgres log rotation mechanism
Additional Information
Included Open Source Software
Click here for an extensive list of Open Source Software included in the FileWave products.
Changes and Fixes in 14.0.2
FW-20101 Fixed incorrect "FATAL" log level in booster logs
FW-23055 Fixed an issue where it would not be possible to create macOS account in DEP profile with dash
FW-23123 Fixed an issue where editing script environment variable would not scroll to the edited variable
FW-24019 Fixed an issue where User Network Payload would require user/password
FW-24773 Minor: fixed typo in "Enroll iOS Device" dialog
FW-25345 Fixed an issue where model update could be slow due to WallPaper profiles
FW-25380 Fixed an issue where Network profile channel would be incorrectly linked to SetupModes option
FW-25453 Fixed an issue here notification profile would not automatically list apps
FW-25461 Fixed an issue where internal house keeping tasks would take too long to perform
FW-25563 Improved FileVault 2 PRK status reporting on macOS Catalina
FW-25692 Fixed an issue where check duplicates script would consider empty serial number as duplicated entries
FW-25747 Fixed a possible deadlock between DEP sync and Auto DEP assignment rules
FW-25817 Fixed an issue where creating an inventory based query could crash native admin
FW-25818 Fixed an issue where model update could fail due to outdated entries in database
FW-25987 Fixed a performance issue due to too frequent smart group evaluations
FW-25991 Fixed an issue where boosters would not always use their dedicated communication channel
FW-25992 Fixed a performance issue where server and boosters would not use multiple threads to communicates with clients
FW-26006 Fixed an issue where incorrect "Lock" error message could prevent model update
FW-26011 Improved Inventory based smart group evaluation time
FW-26049 Fixed an issue where gathering information related to iOS devices, required for Smart Group evaluation, could be slow
Changes and Fixes in 14.0.1
FW-20532 fwcontrol client status now prints filesets not installed due to failed requirements
FW-22493 Fixed an issue where DEP assistant would show device assignment time in UTC and not in local time
FW-22504 Updated Security And Privacy profile to provide more granular change options
FW-23135 Fixed an issue where reinstalling a dependency would be possible even if dependent fileset does not met requirements
FW-23202 Fixed an issue where fileset could remain locked when cancelling duplication
FW-23214 Fixed an issue where Fileset would remain locked after editing registry file
FW-23554 Added support for range queries for Active Directory, which allows LDAP groups containing more than 1500 entries
FW-23763 Fixed an issue where window title text could turn black after opening a combobox
FW-23989 Fixed missing entry in "Window" menu for Inventory Query Editor
FW-24088 FileWave does not try to install 32b applications on 64b only iOS anymore
FW-24119 Fixed an issue where, when logged in with a FileWave admin, member of multiple LDAP admin groups, multiple filesets would be created from the same VPP license
FW-24150 Fixed an issue where initial setting of FileWave Client running on IVS would be incorrect leading to connection delay
FW-24203 Fixed an issue where Full Disk Encryption usage would show incorrect number of affected devices
FW-24257 Fixed misleading log entry when no SIS is configured
FW-24420 Added is null and is not null as operand for Custom Fields in Inventory Query builder
FW-24886 Fixed an issue where running FileWave admin on macOS Catalina would not use fixed font for script editors
FW-24946 Fixed an issue where fwGUI would not use fwcld log level
FW-24966 Fixed "association distance" calculation for group clones
FW-25173 Improved log messages when testing incorrect LDAP configuration
FW-25185 Fixed an issue where configuring Shared iPad diagnostics would not work
FW-25189 Lower log level for debugging traces in booster
FW-25246 Fixed iOS client info not being able to sort Managed Application list
FW-25256 Fixed an issue where Screen Time and SideCar would be missing in macOS restriction payload
FW-25257 Fixed an issue where updating several times the model quickly could lead to temporary incorrect smartgroup membership
FW-25280 Fixed an issue where creating iTunes fileset from App Store would use incorrect locale
FW-25282 Fixed "run_all_queries" debugging management command to properly use smart group queries
FW-25296 Fixed an issue where iOS placeholders would appear in "New Client" Dialog after being deleted
FW-25298 Cosmetic: bash shebang in template does not contain space anymore
FW-25375 Fixed an issue where log contains long stack-trace in case of denied request
FW-25392 Cosmetic: removed "help" button on Windows title bars
FW-25405 Fixed an issue where inventory report can be broken if Spotlight reports the same application several times with same path but different size
FW-25469 Fixed an issue where booster monitor would not allow configuring more than 400 max client for linux boosters
FW-25471 Fixed an issue where TLS connection could be incorrectly closed, leading to communication issues between clients and server or boosters
FW-25495 Fixed an issue where house keeping would be abnormally slow with a large number of MDM commands
FW-25544 Fixed an issue with patch tool when tmp folder is not on the same file system as FileWave files
FW-25560 Fixed possible upgrade issues
FW-25612 Improved user experience in Imaging Association pane when a large number of associations are defined
FW-25626 Fixed a cosmetic issue where title bar color could be altered after using drop down on macOS
FW-25649 Fixed a performance issue where native admin would refresh inventory fields from clients view too frequently
FW-25654 Fixed an issue occurring when moving a file in the same directory in FilesetContents
FW-25688 Fixed a performance issue related to License Management view
FW-25770 Updated Webmin for appliances (Booster, server)
FW-25883 Fixed an issue with fetching VPP information when VPP services are experiencing load
FW-25896 Fixed an issue where applying patches would fail on macOS 10.12
FW-25899 Fixed an issue where applying patches would fail on some filesystem configurations
FW-25902 Fixed an issue where "New Client from Server" could be abnormally slow
Location Tracking
The location reporting feature in FileWave is disabled by default.
It is recommended that you verify that this feature is in accordance with your organization's policies and AUP (Acceptable Use Policy). Notify your end users before activating location reporting, as enabling the feature will prompt for permission to location information.
Read more... The Location Tracking KB (https://kb.filewave.com/display/KB/Location+Tracking)
If you upgrade from FileWave 13.1.3 or below, /fwxserver will be moved to its new location /usr/local/filewave/fwxserver. In case moving is not possible (specific mount point for instance), upgrade will stop and will require manual data folder move.
For Details please refer to fwxserver folder relocation in FileWave Server 13.1.5+ on macOS and Linux Platforms
Backup Script Update:
With this relocation of /fwxserver, the backup script must be updated on your server to ensure a proper backup is being captured.
Please reference the following for more information; https://kb.filewave.com/display/KB/Automated+Backup
Security Changes
Version 13.0.x introduces higher security standards which have impact on self-signed certificate usage.
While it is recommended to use Trusted-CA issued certificates, you can still use self-signed certificate with FileWave ; please make sure you follow the upgrade steps described in this KB article.
---
With FileWave 13.0.x, FileWave uses new Apple Push Notifications service with HTTP/2 protocol ; make sure your FileWave server can contact https://api.push.apple.com (port 443).
---
Starting with FileWave 13.1.0, all components (clients and boosters) will be assigned a certificate to validate their access to your FileWave instance. This implies that Boosters need to be enrolled to be part of your FileWave setup.
When upgrading, a Compatibility Mode will automatically be enabled to ease transition ; in this mode, already enrolled clients will automatically be assigned a certificate, but Boosters will require manual "create certificate" operation once upgraded to 13.1.
You can figure out which booster requires a certificate by looking at the booster view.
If you are using a self signed certificate for your FileWave Server, Booster trust store needs to be updated to trust this certificate. The easiest way is to go through our Custom Package Builder Service and generate a Booster Package which will contain the server certificate.
Upgrading Your FileWave Server
 Please make sure you have a recent backup before upgrading your server.
Please read: Upgrading Your FileWave Server
This article contains important information that will help ensure your upgrade runs smoothly.  It is strongly advised that you review this for each release, since new notes or instructions may have been added.

With version 13.0.x comes the first iteration of FileWave web-based admin console. It will be installed automatically and uses default HTTPS port (443). Upgrade to 14.x will fail if port 443 is not available (upgrade will fail without upgrading your server, leaving it with the previous version running).

If you have another service using port 443

It is recommended to use a dedicated server for FileWave ; if you want to share the server with other services that require HTTPs port, follow the following steps:

stop other service using 443
install FileWave 13.0.x
change FileWave admin port to an unused as described in Change Default Web Console Port KB article
restart FileWave 13.0.x
restart other service

Upgrading FileWave requires the FileWave Imaging Appliance (IVS) to be upgraded to a compatible version to ensure communication continues.
Example: FileWave 14.0.0 requires the 7.0 IVS to image your computers.

In order to avoid problems with migrating database internal structures please make sure that you use a local administrator account, not domain administrator, when performing FileWave Server upgrade on Windows platform.
Downloads
Included in the Bundled Installer:
Admin

Server

Booster

Client
macOS Downloads
An issue which could prevent client upgrade has been identified in version 14.0.2. This issue has been fixed and client version 14.0.2 has been replaced by 14.0.3.
macOS Installers DMG (md5: 5b8b991efd0d102eaaba4dd55d7b3d7c)
macOS Upgrade Fileset (md5: 0fc5c6378fd5a246b2ce62d911aec2dd) - 14.0.3 (including upgrade fix)
[macOS Admin](https://fwdl.filewave.com/14.0.2/FileWave Admin.pkg) (md5: 61927ffdb8d367132f858ed0b2f18c8c)
[macOS Booster](https://fwdl.filewave.com/14.0.2/FileWave Booster.pkg) (md5: b0ec08b290b4755e8f4ade367f3a1b0d)
[macOS Server](https://fwdl.filewave.com/14.0.2/FileWave Server.pkg) (md5: f363fa555902c85bcf108242f3da2a55)
[macOS Client](https://fwdl.filewave.com/14.0.3/FileWave Client.pkg) (md5: 8b72a9bf36b9df7b1de822a6cbe8f14e) - 14.0.3 (including upgrade fix)
Windows Downloads
An issue which could prevent client upgrade has been identified in version 14.0.2. This issue has been fixed and client version 14.0.2 has been replaced by 14.0.3.
Windows Upgrade Fileset (md5: 1c8b0c765a2c6588da45520a533492ae) - 14.0.3 (including upgrade fix)
Windows Admin (md5: 97525f81133d5ebb9f08e3b152f4a3f7)
Windows Booster (md5: eb13836d6bc920295c1f282506ccd698)
Windows Client (md5: e504e88d3b9082f739dd73ae4ce55508) - 14.0.3 (including upgrade fix)
For more information, see FileWave is no more running natively on the Windows Server platform. Windows Server End of Life KB.
Linux Downloads
Linux Installers (md5: 5bdabf12904c55b392fda7ead1e407b8)
Linux Server (md5: 4abdb1ef370ed8474c3f9b00c2dea3f1)
Linux Booster (md5: 1a2a74374f1baccb132b3dd76617662e)
To install or upgrade the FileWave Server, use the following :
yum install -y --nogpgcheck https://fwdl.filewave.com/14.0.2/fwxserver-14.0.2-1.0.x86_64.rpm
    

To install or upgrade the FileWave Booster, use the following :
yum install -y --nogpgcheck https://fwdl.filewave.com/14.0.2/fwbooster-14.0.2-1.0.x86_64.rpm
   
      
    

Note: Use the following command to download offline installers:
wget https://fwdl.filewave.com/14.0.2/FileWave_Linux_14.0.2.zip
unzip FileWave_Linux_14.0.2.zip

iOS Downloads
This is a native app version of the traditional Web Clip kiosk/app portal that is sent to devices ; it provides for a better end user experience and is required for location information.
iOS 9+ : [FileWave Enterprise.ipa](https://fwdl.filewave.com/14.0.3/filewave/App Portal 14.0.3.ipa) (md5: 0e0d3c504d180cec6252af1c32608206)
Static CDN URL :
        https://fwdl.filewave.com/14.0.3/filewave/App Portal 14.0.3.ipa

As Apple code signing requirements have changed since 14.0.2 has been released, the native app portal has been re-built and re-signed with new requirements and released as version 14.0.3.
Chrome
The FileWave Inventory extension for Chromebook has to be installed via the Google Admin Console for your domain. Please see Quickstart Guide for Chromebooks for detailed instructions
Skeleton for Chromebook white-boxing (md5: 150fd09e2005b71a9ce85b6ed6225a1c)
Virtual Appliance Downloads
VMware and VirtualBox (OVA) Server Appliance (md5: 5e5122eb2a990e4de7348354610252b9)
VMware and VirtualBox (OVA) Booster Appliance (md5: 489248b6f99778c8b3ca24390aba0fe6)
For more information about importing the appliances please see: Importing FileWave Appliances
Hyper-V Appliance Downloads
Hyper-V (VHD) Server Appliance (md5: 0ac391d2abf61ea92e57ea716caf5d62)
Hyper-V (VHD) Booster Appliance (md5: aeb7d01b727959d1b3a05053620b65e0)