CrowdStrike Falcon Protection (Windows EXE)
Description
Needing to deploy to Crowdstrike Falcon antivirus to your Windows fleet? FileWave has you covered.
CrowdStrike's flagship product is called Falcon, which is a cloud-native platform that combines next-generation antivirus, endpoint detection and response (EDR), threat intelligence, and proactive threat hunting. Falcon aims to provide real-time visibility into endpoint activity, rapid threat detection, and automated response to security incidents.
Ingredients
FileWave Admin Central

Crowdstrike EXE installer
Crowdstrike License code
Directions
Deploying the Crowdstrike Falcon to your devices
CrowdStrike deployment for Windows devices has one Fileset. This Fileset includes an EXE with launch arguments to be customized with your CrowdStrike license code.
The Fileset included with the EXE installer is the latest version of CrowdStrike. If you have an EXE installer provided by CrowdStrike, you may replace with your own EXE installer version.
CrowdStrike Windows Installation.fileset.zip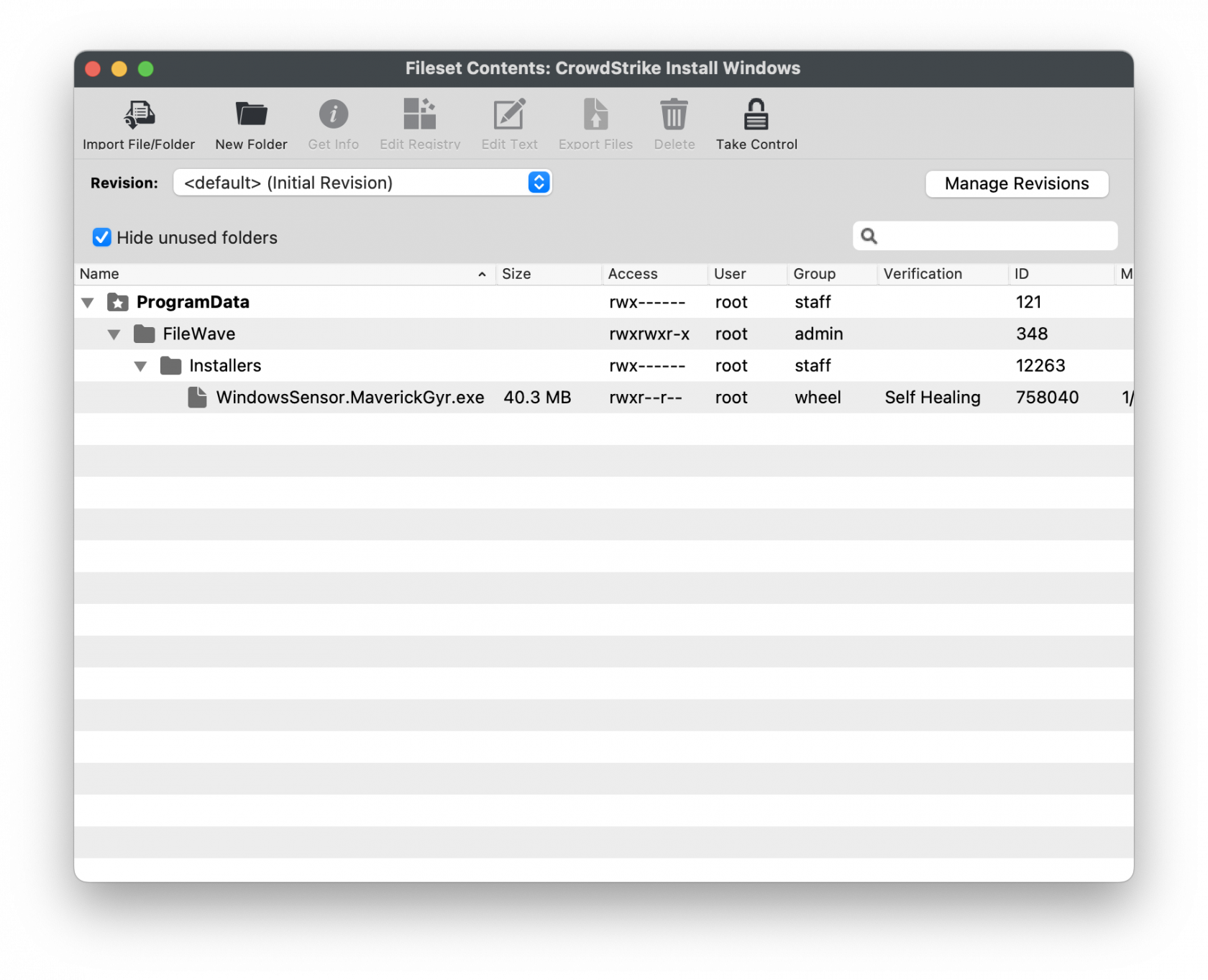 Customizing the Installation EXE
Editing the Fileset EXE

 

Highlight the CrowdStrike Windows Installation Fileset
Double-Click to open the Fileset Contents
Highlight and select the .exe file.
Click on 'Get Info'

Enter in your CrowdStrike License code

 

Select the tab 'Executable.'
Under the tab 'Launch Arguments' highlight CID=
Enter in your CrowdStrike License code.
Click the Apply to save your changes to the Launch Arguments
Close the Get Info Window to save your changes.
Creating a Fileset Group
Keeping your Filesets organized is good practice, especially if there are multiple Filesets for software deployment or organziation based on specific platform of deployment.
You may create a New Fileset Group, label it CrowdStrike Falcon (Windows 2023), and move the Fileset you created into this Group. Then associate the Fileset Group labeled CrowdStrike Flacon (Windows 2023) to your devices versus individual Filesets.
When ready, associate the Fileset Group labeled CrowdStrike Falcon (Windows 2023) to a few devices as a test. This is to verify and confirm that the software is installed properly based on your license code configured.
For best practice, always test a few devices before mass deployment.
Related Content